San Francisco Bay Area
Kitchen Exhaust System Cleaning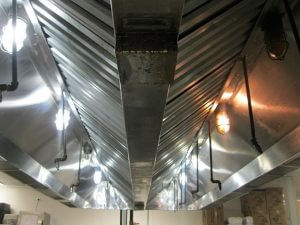 Kitchen Exhaust System Cleaning Service in San Francisco, CA
Out in the dining room, you might find a calm scene where people are enjoying a meal together, but we know what is going on back in the kitchen! Everyone is working at a frantic pace to pull together and create the wonderful meals that you are providing to your customers. It is a busy scene and it can be quite difficult to keep track of everything that is happening. When the chaos hits, it is quite understandable that you might miss certain details, one of which could be the date of your last kitchen exhaust system cleaning. That is ok, Bay Area Hood Cleaning is here to help.
Bay Area Hood Cleaning provides kitchen exhaust system cleaning in San Francisco and the Bay Area. Helping restaurants and other commercial kitchens maintain clean and safe kitchen exhaust systems is our area of expertise. Never worry about the dangers of a dirty exhaust system with regular cleanings and maintenance from our licensed technicians. Just visit our ABOUT US page to learn more about our services.
There are two key factors that your kitchen exhaust system cleaning is keeping in check. It works to keep the air in your kitchen free from the contamination that is associated with grease vapors and smoke. It is also incredibly important for reducing fire hazards. That is why regular cleanings are an important part of minimizing risks for your kitchen.
There is a reason that the board of health, fire marshals, and insurance companies, all have regulations that require regular cleanings of your kitchen exhaust system. They all understand that grease can easily build up in a commercial kitchen's exhaust system and this can result in a grease fire. Grease fires are not only the most common type of fire in a commercial kitchen, they are an incredibly dangerous and particularly fast-spreading type of fire.
When grease residue is hot enough to ignite, it can catch fire and spread quickly due to the fact that grease is a liquid. Water cannot be used to contain a grease fire and this can lead to the quickly expanding grease fire that can consume an entire commercial restaurant building. This is the result that no one wants and that is what Bay Area Hood Cleaning can help you avoid.
Stay out of disaster and bring our team of expert exhaust hood cleaners in to provide the deep clean that your restaurant needs to meet all the requirements for insurance purposes. Not only will Bay Area Hood Cleaners help you meet the standard set by your insurance company, but we will also help you understand what to look for in the future and what cleaning techniques are most useful.
If you are looking for the most experienced and efficient exhaust hood cleaning service team in the Bay Area, then Bay Area Hood Cleaning is here to take your kitchen to the next level. Contact us today to find out more about how we can provide the deepest clean for your commercial kitchen in San Francisco, CA.