San Francisco Bay Area
Commercial Kitchen Equipment Cleaning Service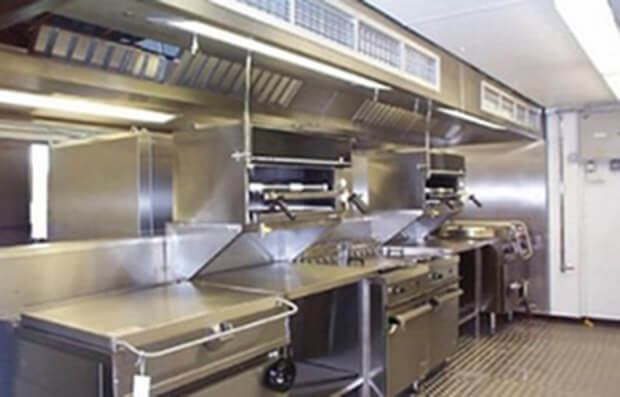 San Francisco's Premier Commercial Kitchen Equipment Cleaning Service
If you are interested in meeting all of the restaurant maintenance codes in San Francisco and getting an even deeper clean that is sure to impress your clientele, then give Bay Area Hood Cleaning a call. With our professional commercial kitchen equipment cleaning service, you get a staff with years of experience meeting and exceeding the regulated cleaning standards.
Bay Area Cleaning has a team that is as diverse in equipment cleaning experience as your kitchen can be in creating dishes. While our team specializes in exhaust hood cleaning, we provide a deep clean for all parts of your kitchen and other parts of the restaurant. From inspecting your commercial kitchen equipment to identifying safety hazards, we have insight and solutions to many potential problems. Visit our ABOUT page to know more about our company.
Commercial Kitchen Equipment Cleaning to Keep You Safe
Nothing is more important than keeping your staff safe while working in the chaotic atmosphere of the kitchen. Our deep cleaning of exhaust systems and other kitchen equipment is specifically tailored to keep grease fires out of the equation so that you can operate safely. Kitchen fires are incredibly dangerous and can also be financially detrimental to your business. The best defense is always a good offense, which is where Best Restaurant Hood Cleaning steps in to help.
With maintenance and regular check-ups, we find problematic spots where there could be grease build-up or dirt that can cause a future problem. If you are interested in making sure that your kitchen is meeting safety standards and providing the safest environment for great cooking, then give us a call.
Bay Area Hood Cleaning servicing San Francisco, CA provides every service you need from exhaust hood cleaning, to pressure washing, and even replacements of filters, exhaust fan installation, and much more.
Experienced and Ready to Clean
Taking care of kitchens is our pride and joy. With every cleaning, we pay extra attention to detail and even help you and your staff master the proper maintenance techniques to use between professional cleanings. If you are looking for a partner that can help keep your commercial kitchen clean and treating you and your staff with respect.
Contact us today to get Commercial Kitchen Equipment Cleaning in San Francisco, CA to provide a full inspection and cleaning of your commercial kitchen equipment today.